After 20 years of service to the Alma and Education and Arts Foundation, former Executive Director Teresa Schlabach doesn't seem to have slowed down at all. She's just "shifted gears" to focus her attention on her great passion: Art.
As a fiber/textile artist, Teresa draws on her early years of training behind a sewing machine. "I learned to sew when I was 10 years old, "recalls Teresa. " I first learned to sew garments through a local 4H program, and then with the help of my parents, continued to sew clothing throughout my high school years. "
After receiving her degree in communications from Southern Nazarene University, Teresa learned how to sew traditional quilts on the sewing machine. In 2013, she began exploring the artistic side of textiles and combining her passion for photography with her sewing skills. Teresa's technique involves thread painting based on her original photos.
Her artistry has won several gallery competitions, and her work has been featured in a number of exhibitions across Arkansas and Texas. Teresa's fabric art is on permanent display at Studio 34 Art Gallery in Eureka Springs.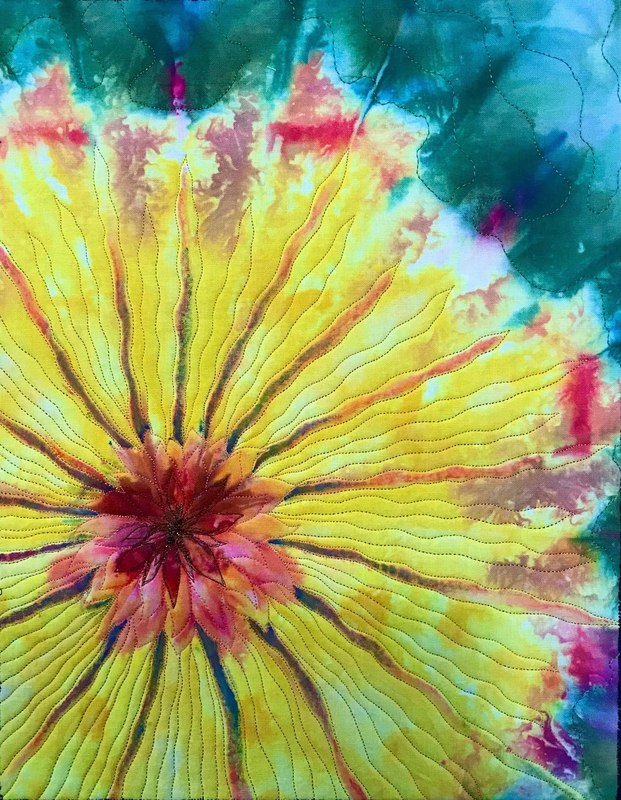 HOW THE ART IS CREATED
Teresa explains: "First I choose one of my original photos and then have it printed on fabric. This becomes my base pattern. The piece is actually stitched through 3 layers – the base patterns, quilt batting, and a piece of canvas due to the heaviness of the stitching. Then I choose different threads to begin stitching on top of the fabric. My goal is to make the photo 'come to life' so to speak by enhancing the details of the photograph. After all the stitching is done, I like to embellish the piece with different threads and fibers such as, Angelina, wools, yarns, silks and so on."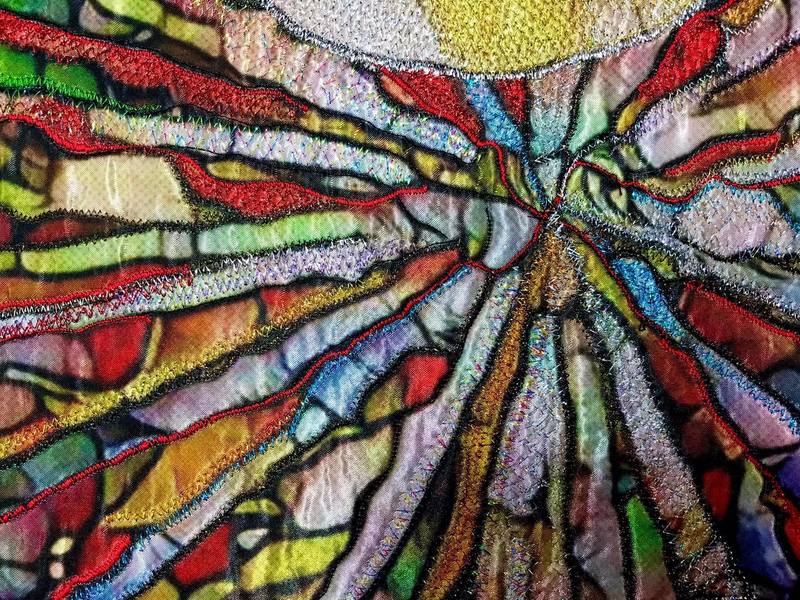 20 YEARS OF SERVICE to the AEAF
In the meantime, Teresa has not left her love for the Foundation and the Skokos Performing Arts Center completely behind. After all, her hard work and dedication to the goals of the Foundation helped to raise the organization to a place where annually, the Foundation awards $90-100,000 in scholarship money to Alma graduating seniors. She facilitated the production of hundreds of professional shows at the PAC, which contributed to a total of $1.4 million dollars in Foundation funding over the span of her 20 year career.
Today, she continues to serve on the Foundation Board of Directors, and acts as a close advisor to the new Executive Director, Chuck King. "I'm extremely grateful for Teresa's support", says King. "She offers at wealth of experience and insight to the presenting theatre and non-profit spectrum, and has helped to make this year of transition a great success."
PAC GALLERY EXHIBITION August 20-September 9

The Skokos Performing Arts Center is pleased to announced that a collection of Teresa's Schlabach's unique art creations will be on Exhibition in the Gallery, August 20th-September 9th. The exhibition coincides with the re-opening celebration of the Performing Arts Center under its new name, and a reception honoring Shannon and Ted Skokos on August 20th, prior to the Easton Corbin Concert.
The exhibition will be open during normal operating hours. Private showings can also be arranged. For more information on Teresa's work or the reception honoring the Skokos's, please call the box office.